20 Carols for a Cellist and Friends
(Other Instruments Can Play Too)

Sample page
Please note:
The sample page image below may take a short time to regenerate.
Due to image compression, it may appear here slightly less sharp than in the printed book.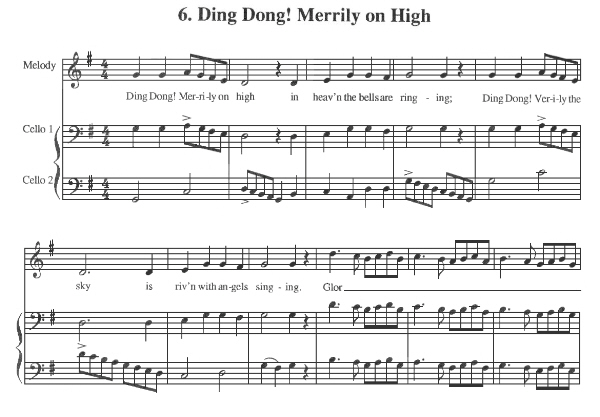 Half-page sample from 20 Carols for a Cellist and Friends
© Copyright - Penelope Lynex / S J Music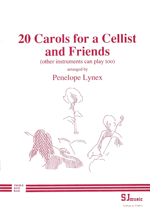 CD not included with book. See below for audio samples.
Now selling internationally.

Available from all good music shops
- or order book (price £6.50) from
SJ Music, 23 Leys Road, Cambridge CB4 2AP
Tel. +44 (0)1223 314 771 - Fax +44 (0)1223 560 353
or visit their website www.sjmusic.org.uk

Please note that CD is not included with the book.
CD (price £6.50) available by email music@pnlynex.co.uk
Sold together with book at £10.
National and international postage rates on enquiry.

Book Contents
1. Once in Royal David's City
2. The First Nowell
3. Away in a Manger - CD AUDIO SAMPLE
4. Unto Us a Boy is Born
5. While Shepherds Watched their Flocks - CD AUDIO SAMPLE
6. Ding Dong! Merrily on High - CD AUDIO SAMPLE
7. Silent Night, Holy Night
8. Wassail, Wassail - CD AUDIO SAMPLE
9. The Holly and the Ivy
10. See Amid the Winter's Snow
11. O, Little Town of Bethlehem - CD AUDIO SAMPLE
12. Little Jesus, Sweetly Sleep
13. We Three Kings of Orient are
14. Good King Wenceslas
15. It Came upon a Midnight Clear
16. God Rest You Merry Gentlemen
17. In the Bleak Mid-winter
18. Hark! the Herald Angels Sing
19. We Wish You a Merry Christmas - CD AUDIO SAMPLE
20. O Come, All Ye Faithful