20 Carols for a Cellist and Friends
(Other instruments can play too)
Arranged by Penelope Lynex
Your favourite carols - play along, sing along!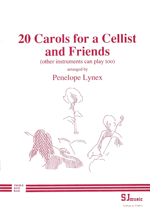 Click for sample page

CD (not included with book and can be ordered as shown below). See below for audio samples.
A book of 20 well known Christmas carols with the tune written in the treble and bass clefs on two separate staves and with an accompaniment in the bass clef on a third stave. A separate viola melody part is available by email from music@pnlynex.co.uk
"It seemed to me that young cellists would enjoy a book of carols which they could play with friends or family even when a full piano accompaniment was not possible. They can also be played as teacher and pupil duets. I have aimed to keep technique simple but artistically rewarding, with the tune well within the scope of most elementary cellists"
- Penelope Lynex
See below for contents and audio samples.
Bowings, etc. are deliberately on the elementary side, but are obviously adaptable as are the instruments which can be used. And of course anyone can also join in singing! The bass line (cello 2) could be played with the left hand alone on the piano, and the treble (melody) by violin, flute, recorder, etc, or simply sung. The book can be used just for cellos or other string instruments, or even a combination of strings, wind instruments such as bassoon or keyboard etc., playing the different parts as a group.
The selection of carols provides a variety of musical levels for performers in duos, trios or ensembles. A teacher or more advanced player can accompany beginners or those learning at a slightly higher level. Presenting twenty carols in one book allows space for first verses only, but standard carol books will contain the other verses.
20 Carols for a Cellist and Friends is fun and educational, either individually, at home or with a tutor, and can also be useful for teachers in schools who can use it with various instruments perhaps incorporating percussion. Technically simple but adding colour are the pizzicato accompaniment in two numbers, and chords with open string and one stopped note in three others. Figures children enjoy playing have also been included, such as the downward scales in "Ding! Dong! Merrily on High" to sound like bells.
A CD of the carols in the book, to play along with or listen to, is available by email from music@pnlynex.co.uk

Click below as marked for audio samples from the CD.

Book Contents
1. Once in Royal David's City
2. The First Nowell
3. Away in a Manger - CD AUDIO SAMPLE
4. Unto Us a Boy is Born
5. While Shepherds Watched their Flocks - CD AUDIO SAMPLE
6. Ding Dong! Merrily on High - CD AUDIO SAMPLE
7. Silent Night, Holy Night
8. Wassail, Wassail - CD AUDIO SAMPLE
9. The Holly and the Ivy
10. See Amid the Winter's Snow
11. O, Little Town of Bethlehem - CD AUDIO SAMPLE
12. Little Jesus, Sweetly Sleep
13. We Three Kings of Orient are
14. Good King Wenceslas
15. It Came upon a Midnight Clear
16. God Rest You Merry Gentlemen
17. In the Bleak Mid-winter
18. Hark! the Herald Angels Sing
19. We Wish You a Merry Christmas - CD AUDIO SAMPLE
20. O Come, All Ye Faithful

Please note that the CD is not included with the book,
and can be ordered as shown below.
Now selling internationally.
Available from all good music shops
or order book (price £6.50) from
SJ Music at 23 Leys Road, Cambridge CB4 2AP
Tel. +44 (0)1223 314 771 - Fax +44 (0)1223 560 353
or visit their website at www.sjmusic.org.uk
CD (price £6.50) available by email music@pnlynex.co.uk
Sold together with book at £10.
National and international postage rates on enquiry.

Also available by Penelope Lynex is Cello Ideas: A Practical Guide, her highly-regarded guide to cello technique.